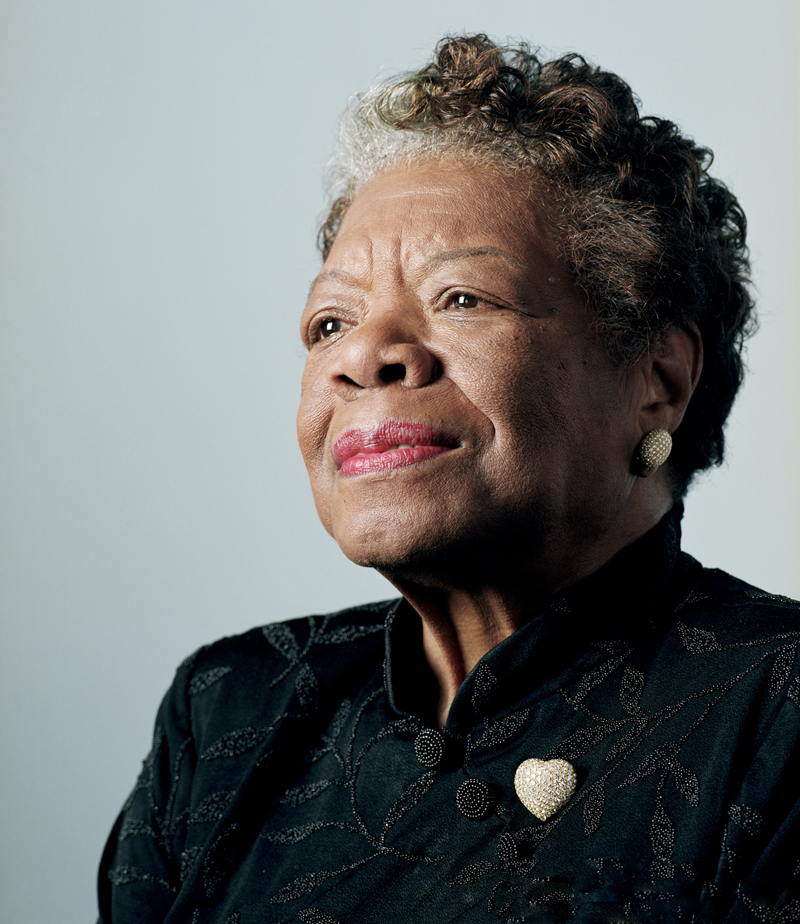 "Be present in all things and thankful for all things." –Dr. Maya Angelou
Thanksgiving was one of Dr. Maya Angelou's favorite holidays, and for many years, she hosted a multi-day celebration that brought friends and family together in Winston-Salem, North Carolina. For those who gathered over the years, Dr. Angelou's Thanksgiving was not only a celebration of the holiday but a respite from the day-to-day challenges we experienced in our lives.
Now, more than ever, we encourage you all to consider being of service in your respective communities and spread Dr. Angelou's message of charity, engagement, acceptance, encouragement, and love. There are so many families and individuals in need; any contribution you make from your heart spreads Dr. Angelou's message of generosity and love.
Wishing you all a safe holiday season filled with joy, peace, gratitude, service to others, and sacred memories with loved ones. 
– Estate of Dr. Maya Angelou
"Continue" by Dr. Maya Angelou
My wish for you
Is that you continue
         Continue
To be who and how you are
To astonish a mean world
With your acts of kindness
         Continue
To allow humor to lighten the burden
Of your tender heart
         Continue
In a society dark with cruelty
To let the people hear the grandeur
Of God in the peals of your laughter
          Continue
To let your eloquence
Elevate the people to heights
They had only imagined
         Continue
To remind the people that
Each is as good as the other
And that no one is beneath
Nor above you
        Continue
To remember your own young years
And look with favor upon the lost
And the least and the lonely
        Continue
To put the mantle of your protection
Around the bodies of
The young and defenseless
        Continue
To take the hand of the despised
And diseased and walk proudly with them
In the high street
Some might see you and
Be encouraged to do likewise
         Continue
To plant a public kiss of concern
On the cheek of the sick
And the aged and infirm
And count that as a
Natural action to be expected
         Continue
To let gratitude be the pillow
Upon which you kneel to
Say your nightly prayer
And let faith be the bridge
You build to overcome evil
And welcome good
       Continue
To ignore no vision
Which comes to enlarge your range
And increase your spirit
       Continue
To dare to love deeply
And risk everything
For the good thing
       Continue
To float
Happily in the sea of infinite substance
Which set aside riches for you
Before you had a name
       Continue
And by doing so
You and your work
Will be able to continue
Eternally
Become a Friend of the Dr. Maya Angelou Foundation This Holiday Season
"When we give cheerfully and accept gratefully, everyone is blessed." – Dr. Maya Angelou 
Giving Tuesday, November 28th, is a national day of giving that reimagines a world built upon shared humanity and generosity.  When you give to the Dr. Maya Angelou Foundation on Giving Tuesday, you are helping to uplift and transform lives!
Guided by Dr. Maya Angelou's vision of "…sharing in the glory of a good life, lived joyously", our mission is to activate positive change and inspire the next generation of critical thinkers, creative writers, and courageous leaders through our innovative programs rooted in greater access to education, equality, and justice for all.
This year's highlights include awarding nine Historically Black Colleges and Universities over $55,000 in scholarships to worthy scholars through our Annie Henderson and Willie Johnson Scholarship Fund, supporting young people who participated in and won top awards in our Dr. Maya Angelou Essay Writing Contest in Oakland Unified School District in Oakland, CA and Winston-Salem/Forsyth County Schools in Winston-Salem, NC, and powerfully moving forward with the publication of an anthology featuring the essays of our young authors. 
Rooted in Dr. Angelou's core virtues of courage, creativity, curiosity and change – this holiday season, we invite you to join other friends of the Foundation in our "95 for 95" giving campaign in celebration of what would have been Dr. Angelou's 95th birthday on April 4, 2023. Your gift of $95 in honor of Dr. Angelou's life and legacy or a monthly gift in any heartfelt amount ensures current programs will continue to make a positive impact for years to come.
Make plans to give today, visit us at bit.ly/DrMayaAngelouFoundation
To learn more, visit us at www.drmayaangeloufoundation.org
THE DR. MAYA ANGELOU FOUNDATION (DMAF) is the only public charitable nonprofit organization founded by Dr. Maya Angelou.
Contact information: 
MAYA ANGELOU FOUNDATION
Thamiah L. Tutt, MBA | President and CEO
3170 Crow Canyon Place, Suite 180
San Ramon, CA  94583
Office: 336.701.3209
Email: ttutt@drmayaangeloufdn.org
The Dr. Maya Angelou Foundation is a 501(c)(3) California based nonprofit public benefit corporation. EIN: 36-4986997. 
Introducing Our Holiday Gift Guide: For family. For friends. For you.
Explore phenomenal gift ideas anchored in the joy of generosity!
Attend Wake Forest University's Maya Angelou Artist in Residence Event with Debbie Allen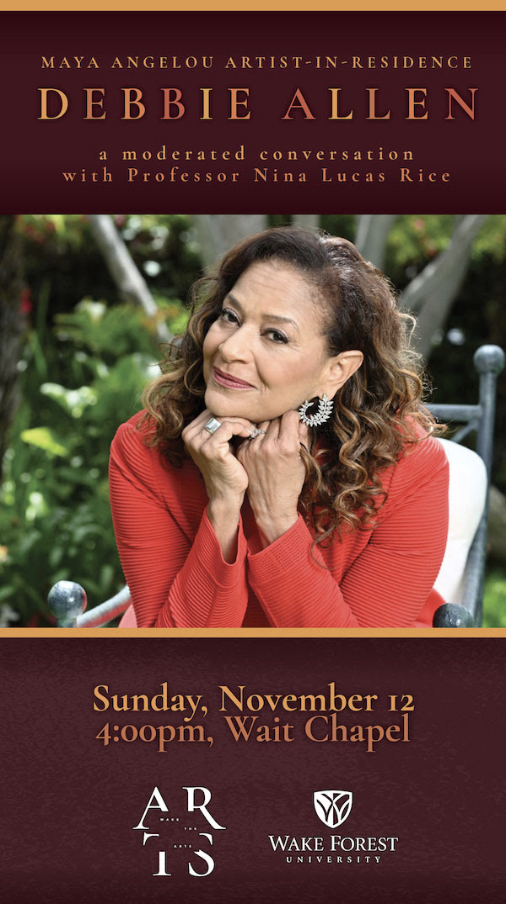 Attend a moderated conversation with Emmy, Tony, and Golden Globe award-winning director and producer Debbie Allen, the inaugural recipient of Wake Forest University's Maya Angelou Artist-in-Residence Award. This award honors world-renowned artists who reflect Maya Angelou's passions for creating, performing, and teaching, and who demonstrate a commitment to uplifting the human experience. Join us this Sunday, November 12th, at 4:00 p.m. in the Wait Chapel on the Wake Forest University campus in Winston-Salem, North Carolina. The conversation is open to the public, and you are invited to RSVP here if you can attend.
Celebrating the Dr. Maya Angelou Essay Writing Contest Winners!
Mr. Guy Johnson launched the Dr. Maya Angelou Essay Contest in 2019 in partnership with the Oakland Unified School District(OUSD). We continue to uphold the Angelou Johnson legacy and are excited to announce the contest winners and share samples of the 2023 winning entries. Enjoy this excerpt from OUSD, and continue to support and learn more.
Every year in early November, OUSD and the Dr. Maya Angelou Essay Writing Contest Committee invite high school seniors and juniors to write scholarly personal narratives. The contest produces unforgettable stories written with courage and authenticity that leave a profound impact on readers and our community. This is exactly what donor Guy Johnson, author, and son of Dr. Angelou wanted for young people in his hometown, Oakland, California and beyond.
Now starting its fifth year, the contest has students eager to create and write, and is one that brings out the best in their writing. A hallmark of the contest is the donor's requirement that students receive support in editing and revising essays. Every student who enters has the opportunity to have their work selected for publication in an upcoming anthology. This in itself is an amazing opportunity; the prospect of publication in an anthology excites students.
Announcing the 2023 winners with the top essays:
First Place – Joselyn Mejia- Hernandez, Oakland Technical High School, $5000 Scholarship
Second Place – Victoria Asemota, Oakland Technical High School, $3000 Scholarship
Third Place – Oscar Villegas-Alvarez, Ralph Bunche Academy, $1800 scholarship
Eleventh Grade Winner- Janis Williams, Oakland Technical High School, $1000 scholarship
The 2023 Honorable Mention winners:
Wang Vincent Ng, Oakland High School, Class of 2023, $750 scholarships
Ngoc Ta, Coliseum College Prep Academy, Class of 2023, $750 scholarships
Angela Gil, Castlemont High School, Class of 2023, $750 scholarships
Kimberly Gard, Ralph Bunche Academy, Class of 2023, $750 scholarships